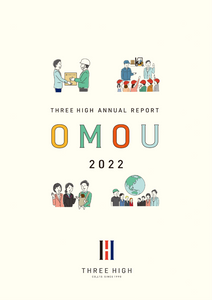 THREE HIGH ANNUAL REPORT
 ~ OMOU(おもう)~
「ものを想う。ひとを想う。」を経営理念とする当社が生み出している価値とは。
それを自らに問いながら、ステークホルダーの皆様に向けて、公開・発信を進めています。
Our company, guided by the principles of 'Thinking of Things. Thinking of People.' is committed to creating value. We continuously question ourselves about what this value entails as we progress in sharing it with all our stakeholders through public disclosure and communication.
We bring warmth
We want to deliver warmth to the factories, to the community, to the town, and to the world.
We want to make our employees, our families, our customers, and our community feel warm with us.
It is our goal to spread warmth through smiles and laughter.
That is why we are manufacturing idustrial heaters and nurturing manufacturers and carriers all over the world.
This is what we do.