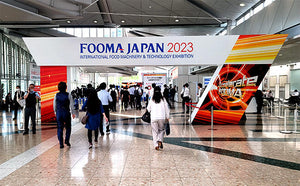 First-time Exhibition at FOOMA JAPAN 2023: A Resounding Response to Visitors' Interest in Heaters
"FOOMA JAPAN 2023: Our Debut Exhibition at the Leading Food Industry Trade Show"
From June 6th to 9th, 2023, the prestigious food industry trade show, "FOOMA JAPAN 2023," took place at Tokyo Big Sight. It was our company's first time participating as an exhibitor at this event. Despite being overwhelmed by the sheer number of exhibitors and attendees, we were thrilled to sense unprecedented business opportunities when visitors expressed their keen interest in heaters.
Here is an introduction to our booth at FOOMA JAPAN 2023. 
FOOMA JAPAN is the world's largest exhibition in the food industry
FOOMA JAPAN is a business exhibition event focused on food manufacturing, organized by the Japan Food Machinery Manufacturers' Association (JFMA). It brings together companies involved in the food industry, ranging from major corporations to small factories and startups. The event serves as a platform for these companies to showcase their products, technologies, and services specifically tailored for the food manufacturing sector, utilizing their unique expertise. FOOMA JAPAN facilitates fruitful business negotiations and networking opportunities among industry professionals.
FOOMA JAPAN 2023 Special Website
FOOMA JAPAN is proud to be one of the world's largest exhibitions in the food industry. The event occupies the entire East Exhibition Halls 1-8 at Tokyo Big Sight, showcasing its grand scale. In its 46th edition, this year's event featured an impressive participation of 969 exhibitors, and the total number of visitors reached an all-time high of 106,104, making it the largest in history.
The exhibited contents of the participating companies cover a wide range of areas. It is truly impressive to see the utilization of AI and robotics technology in food processing, as well as automated systems that can mass-produce processed food simply by inputting the ingredients.
In addition, you can also explore various technologies and products related to food lifestyle, such as hygiene supplies, packaging technology, cooking utensils, and pest control solutions.
Our heater products are also utilized for applications such as heating, insulation, and prevention of solidification in food ingredients. Last year, we exhibited at PROPACK ASIA 2022, an international exhibition focused on packaging for food and related industries, held in Bangkok, Thailand. It provided us with valuable connections within the food industry.
Reference: First overseas exhibition at PROPAK ASIA 2022, aiming to create a new base in Thailand!
Building on this achievement, we have decided to take on a new challenge by participating in domestic food-related exhibitions this year. As a result, we eagerly embraced the opportunity to exhibit at FOOMA JAPAN, one of the leading food industry trade shows in Japan. 
In addition to our well-established reputation in pipe heaters, we also showcased container jacket heaters at the exhibition
 As a food-related exhibition, our booth primarily featured products that received inquiries and orders from food processing companies and restaurants.
Firstly, we showcased pipe heaters. Pipe heaters are utilized to heat materials such as melted chocolate or other liquids, ensuring they remain in a fluid state as they flow through the processing line via pipes. To cater to different needs, we displayed two types of user-friendly products: pipe heaters using silicone rubber and a new addition to our lineup, the TechHeater.
Reference:Results at the Thai exhibition, business negotiations for heaters from local confectionery factories and canning factories 
Secondly, we presented insulation materials, which are used for heat retention and preventing heat loss. In this exhibition, we showcased two products: "KINZO," a new material capable of metal detection, and silicone sponge. These materials offer excellent insulation properties and provide effective solutions for various applications. 
KINZO is not only an effective insulation material but also a new material capable of detection by metal detectors. By using KINZO to create gaskets or seals, even if a fragment of the gasket falls off due to corrosion or aging on the production line, it can be easily identified and detected by metal detectors. This feature plays a crucial role in preventing foreign object contamination in food production lines and ensuring food safety.
Reference:Silicon sponge KINZO that reacts to metal detectors, a new innovation to prevent contamination in the food manufacturing process 
Silicone sponge is a product that we have been manufacturing and selling for many years. It is used to provide insulation by covering heating devices and components or placing it beneath containers to ensure heat retention and prevent burns when touched by human hands. Its ability to be processed into customized shapes according to specific requirements is also a notable feature.
Reference:Electricity cost savings technique utilizing heat retention cover and silicone sponge! 
Furthermore, we also showcased a prototype of a container jacket heater that is currently under development. This heater is designed to provide insulation and prevent freezing or solidification of liquids during transportation. We have been advancing its development with the aim of offering a solution for transporting food materials in a liquid state. We presented it as a reference exhibit to demonstrate its potential benefits in maintaining the desired consistency of food ingredients during transit.
We are also considering the application of this jacket heater for IBC containers. IBC containers are rectangular-shaped transportable polytanks with a capacity of 1,000 liters (equivalent to five drums). We have been conducting prototypes for a transportable insulation heater that can be used for carrying solvents and other liquids, not limited to food ingredients, in their liquid state.
We felt a strong sense of excitement from visitors expressing their interest in seeing our heaters, like never before.
Over the years, our company has participated in various domestic and international exhibitions such as Smart Factory Japan and PROPACK ASIA. However, at this year's FOOMA JAPAN, we encountered something unprecedented compared to our previous exhibition experiences. It was the following remark from the visitors:
"We want to see your heaters."
 Many of the visitors came to our booth with the specific intention of seeing the heaters right from the start. They didn't simply stop by to greet us in order; their primary focus was to explore our heaters by visiting our booth.
 With nearly 1,000 participating companies and booths spread across eight halls, FOOMA JAPAN is a large-scale event where it becomes challenging for representatives to visit every single booth, even when dividing the tasks among all team members. Therefore, prior to attending the exhibition, company representatives review the exhibiting companies' offerings to narrow down the booths they want to visit. In our booth, we had a significant number of visitors who were representatives from the food manufacturing industry with a keen interest in heaters. Many of them expressed concerns about food insulation and heating. It was a remarkable achievement for us to be able to engage with these individuals, understand their specific needs, and provide on-the-spot product recommendations based on their requirements. This outcome was something we had not experienced in our previous booth displays.
 According to the event organizers, the next FOOMA JAPAN in 2024 is scheduled to take place from June 4th to June 7th, 2024. After experiencing such a positive response and outcome from our inaugural participation, we are eagerly looking forward to the possibility of exhibiting again next year. We have a strong desire to set up a larger booth and showcase a wide range of products to welcome even more visitors. The anticipation and enthusiasm within us are already building up for this opportunity.
---