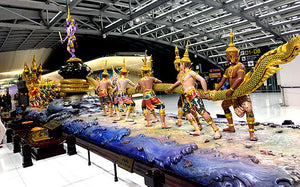 First overseas exhibition at PROPAK ASIA 2022, aiming to create a new base in Thailand!
Our motto is to take on new challenges. As part of this, in June we exhibited our first booth at an overseas exhibition. The venue is Bangkok, Thailand. I, Nakayama, and Matsumoto from Threehigh have been putting lots of effort into international business events where many people from various countries gather.
* The above photo is a display in Bangkok International Airport.
 Booth at PROPAK ASIA 2022 held in Thailand
 This time, we exhibited at an exhibition called PROPAK ASIA 2022. This is an international business event where Asian companies involved in the packaging of food and sanitary goods gather to introduce their own products. It was held for four days from June 15th to 18th, 2022 at the "Bangkok International Trade and Exhibition Center (BITEC)" in the eastern part of Bangkok.
PROPAK ASIA official website (English)
Venue Bangkok International Trade & Exhibition Center (BITEC)
Most of the exhibitors are Asian companies. If we take a look by country, there are many local Thais, and in addition to Thailand's neighboring countries such as Singapore and Indonesia, we also saw participants from India and Taiwan. Chinese companies had a small number of exhibitors, partly due to the lockdown measures taken in Shanghai to prevent the spread of the new coronavirus infection. Japanese companies exhibited independently, but the Japan Food Machinery Manufacturers Association (FOOMA) also participated and provided booth space for Japanese companies that wanted to exhibit. Our company rented the booth prepared by FOOMA and was able to exhibit for the first time overseas.
Desperately appealing in English while interweaving gestures
 At exhibitions in Japan, opening ceremonies such as ribbon cutting are held at the entrance of the venue on the first day of the exhibition, but here the exhibition started quietly without any events. After the start time, visitors began to visit the booths of each company little by little. Many of them are in their 30s and 40s, and the relatively young lineup stands out.
PROPAK ASIA 2022 venue entrance
 We also arranged our own products in a designated booth and made preparations to welcome visitors. Since it was a food-related exhibition, we exhibited mainly silicone rubber heaters that are excellent in terms of hygiene.
Our booth in corner of FOOMA
For the booth exhibition, we hired two local business interpreters. They are excellent people who can speak three languages, Japanese, English and Thai. However, we could not just leave it all to them. We actively tried to sell our products to visitors, making full use of the English conversation skills we had practiced.
Appeal actively despite being nervous
Many of the visitors are local Thais, and most of the other Asians do not speak English as their native language. Therefore, I was able to communicate quite well even in English while mixing gestures. I was happy that they understood what I was talking about even when I just said "We make heaters!". After that, with the help of interpreter, I focused on promoting our company's products while showing them the actual products. When Thai people came to visit, I called out to them by calling out "สวัสดีครับ (Sawasdee Klap)," which I learned for this occasion.
The senior staff explains products to visitors without being scared.
In addition, the five companies exhibiting at the FOOMA booth took turns introducing themselves and the products they were developing for 15 minutes. At our company, Matsumoto and I introduced our company and various usage examples using heaters, and gave a presentation showing the actual product.
Presentation while actually showing the heater
The presentation in English was hard. Still, I was able to complete it successfully, and I played an important role!
Introducing business activities in English
Business opportunities in the current situation where electric heaters are NOT well known
The number of visitors to the exhibition increased with each passing day. Before we knew it, we had become accustomed to communicating in English, and were able to quickly answer questions from visitors. Then I realized that there was a difference in the recognition of heaters in Japan.

In Thailand, steam heaters are the mainstream when it comes to heaters, and electric heaters are not well known.

Even in Thailand, where the climate is warm, heaters are used for industrial purposes. However, it is said that only steam heaters are used. Perhaps because of that, some people said it was the first time they had seen an electric heater. When I explained the benefits of electric heaters, such as safe heating and accurate temperature control, they seems to be interested.
Example of our electric heaters
When we asked about the types of industries of the visitors, we found that they ranged from food manufacturers and food equipment manufacturers to restaurant managers, trading company agents, and sushi restaurants. People from all industries showed a strong interest in our heaters. I realized that there is a business opportunity in developing in Asia, given the high level of interest in electric heaters.
I want to build a foothold for overseas expansion in Thailand
 On the last day of the event, the number of business discussions increased. Something big happened here too. that is,
"Where do you sell your company's electric heaters?"
"Is it possible to buy it at a store in Thailand?"
It is a purchase consultation.
Sometimes intrusive exchanges
Our products can be ordered and purchased online for domestic use. In addition, we have opened an English online shop for overseas customers. In addition to getting people to use it, if we can sell our products locally, we will be able to expand overseas business in earnest.
By participating in PROPAK ASIA 2022 this time, in addition to our first overseas exhibition, we want to build a foothold for our overseas expansion. It is a great achievement to get a definite response to fulfilling that desire.

After returning to Japan, we sent a message from our company to the person with whom we had a business meeting. We have received many replies stating that their interest in our heaters has not changed and that they would like to maintain the relationship in the future.
Everything from harvest to reflection is a first-time experience
During the four days of the event, I met a lot of people during the exhibition. In particular, I am happy to have made many acquaintances from Thailand. The two interpreters worked very hard every day. I would like to say thank you in Thai, ``koob kun''.
Commemorative photo after finishing the booth exhibition.
Interpreters Bee (front left) and Tip (back center), Threehigh Matsumoto (back left) and Nakayama (back right) 
For me, this trip to Thailand was a first-time experience for me. In addition to overseas business trips, product explanations and presentations in English were a great experience. And I am keenly aware that I must study English more.

There is also a reflection point. It took me a while to go through the procedure when bringing in exhibits such as heaters at the airport when I entered Thailand. It took me two hours to complete the procedure because I was unfamiliar with the procedures for industrial products. I was able to learn the difference between overseas travel and business trips, and I would like to take this as a lesson for next time.

By the way, I was bad at eating spicy food. But it became possible for me to eat it on this business trip to Thailand. I got used Pak Chi (Cilantro) as well.
Stir-fried crab curry (left) and green curry (right) at a local restaurant
It would be an exaggeration to say that my participation in PROPAK ASIA 2022 was my first step towards becoming a global businessman, but that thought grew in my heart. I would like to make use of this experience to achieve better results.
---